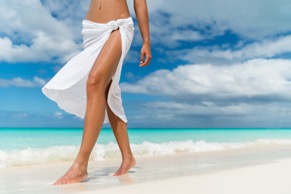 It is estimated that a third of women suffer from unsightly spider veins, which resemble a sunburst or "tree-branch"-pattern and are usually red, purple, or blue in color. Though spider veins rarely hurt and are consequently only considered a cosmetic issue, they can still do damage by destroying confidence, particularly during the summer when bare legs are the norm.
Fortunately, we offer effective and affordable spider vein treatments at Chesapeake Vein Center & MedSpa performed by Hampton Roads' premier vein surgeon, Dr. Surya Challa.
Your first step is coming in for a consultation. To map your spider veins and determine the feeder veins that cause them, Dr. Challa utilizes Veinlite, a specially-designed 150-watt light source. Spider veins are usually extremely easy to diagnose, and with the help of Veinlite, he should be able to determine your optimal course of treatment in one efficient office visit.
The two main treatments for spider veins are sclerotherapy or BBL photofacials. A minimally-invasive treatment, sclerotherapy injects a solution into the targeted veins, causing concerned veins to collapse and gradually fade from view in the weeks following treatment. Photofacials are a non-invasive light treatment that help to diminish targeted veins with light energy. We often get great results using photofacials for smaller veins on the face. Sclerotherapy is highly effective for more substantial areas of spider veins on other areas of the body, including the feet and legs.
Be proud of your legs this summer and schedule your vein consultation today by calling  757.663.5461 or completing our consultation request form!