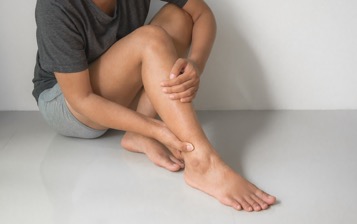 Do you ever feel an uncomfortable, persistent urge to move your legs while watching TV or trying to fall asleep in bed? It might feel like a creepy-crawly sensation, or an itchy, nagging ache you can't seem to shake. If so, you may be suffering from a common condition called Restless Leg Syndrome (RLS). Also called Willis-Ekbom Disease, Restless Leg Syndrome is a neurological sensory disorder that may affect up to 10 percent of the population. While there's no definitive way to test or cure RLS, there are steps you can take to increase your comfort with help from vein surgeon and expert Dr. Surya Challa.
1. Your first step is coming in for a thorough evaluation with Dr. Challa.
He will closely assess your symptoms, including frequency and intensity, while considering every aspect of your health. Dr. Challa will note any medications you may be taking, since certain drugs are known to trigger RLS, including SSRI antidepressants, anti-nausea drugs, and allergy/cold medications containing diphenhydramine. Dr. Challa may also request a blood test to determine if you have an iron deficiency, another known cause of RLS. Other health conditions that may contribute to RLS symptoms include diabetes, kidney disease, thyroid disease, and Parkinson's Disease.
2. Skip the coffee house and cocktail hour.
Did you know that alcohol, nicotine, and caffeine are all major RLS triggers? Some people clear up their RLS symptoms completely just by eliminating these three popular substances from their diet.
3. Get moving or relaxing.
Introducing a moderate exercise regimen, such as walking, may help relieve RLS. But don't overdo it or exercise right before bed! Strained muscles are known to aggravate RLS in many people. Certain relaxation techniques are also helpful, such as stretching, hot baths, hot or cold compresses, massage, or vibratory stimulation of the feet and toes before bed.
Don't let RLS leave you restless! Get relief today by calling  757.663.5461 or clicking here today.