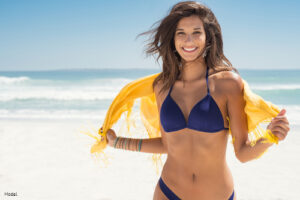 Summer fun may be in full swing, full of bright days and BBQ's, but if you're feeling "meh" about your body, you're probably spending your days going to battle with your closet, trying to find clothes and swimwear that covers all your "trouble spots." Not a fun place to be, we know from experience!
Fortunately, we also know that you can love your body again with a few simple steps! At Chesapeake Vein Center & MedSpa, we are passionate about helping you love the skin you're in, so we've invested in clinically proven technologies to help you do just that!
Here's a look at proven solutions you can count on this summer for boosting your confidence and joie de vivre:
If you're battling stretch marks…
…our team recommends microneedling! Microneedling has been around for several years and is one of the most popular skin resurfacing treatments in the medspa world for good reason. This simple treatment creates "controlled wounds" in your skin using tiny needles. These needles stimulate your skin's natural healing response, spurring the growth of new collagen and elastin, which are the building blocks for strong, supple skin. With each microneedling treatment you do, you'll start noticing gradual improvements to skin texture and tone. Your stretch marks will start to diminish and look less noticeable. You may also be able to achieve some tightening and brightening to your target areas. For your best results, we'll pair your microneedling treatment with medical-grade Environ® skin care products, which are formulated with active ingredients and soothing nutrients to boost your skin renewing benefits.
If you're battling fat bulges…
…our team recommends CoolSculpting®! You've heard of CoolSculpting countless times by now, but if you've been putting off treatment because you just don't have the time, we'd like to ask you a simple question: Do you enjoy feeling "meh" about your body? You deserve to love your look at all stages of life, and we are here to help you trim away stubborn fat without surgery or downtime. CoolSculpting freezes away unwanted fat precisely where you need it, in those impossible areas that don't respond to diet or exercise, those areas you are stuck with. But we'd like to get you unstuck this summer! Put yourself first and call us for a CoolSculpting consultation today: 757.663.5461!
If you're battling blemishes, oily skin, dullness and dark spots…
…our team recommends Halo®, BBL® photofacial, chemical peels, Environ® skin care products, microdermabrasion…our list could go on and on. All our skin treatments are best-in-class to stimulate skin renewal and reveal younger, brighter and more evenly toned skin. During your personal consultation, we can help you pick a precise skin care regimen that suits your unique complexion needs and goals. We'll also outfit you with results-driven Environ skin care products to help you boost your professional skin treatments and keep your results going strong through summer and beyond.
Are you ready to love your look? We hope so! To learn more about life-enhancing summer treatments for you, give us a call at 757.663.5461 or request a consultation online today.