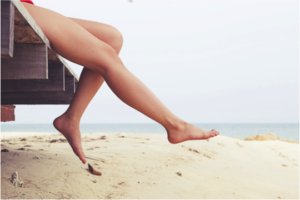 Summer doesn't officially arrive until June, but warmer weather is right around the corner, along with revealing summer fashions!
If you've ever felt compelled to hide your legs due to unsightly spider veins, this blog is for you! With spider vein treatments in Chesapeake, you can banish spider veins for good and regain the confidence to don shorts this summer instead of sweating in capris.
Spider veins are easy to spot and treat. They're usually red, purple, or blue, and they tend to form on the thighs, lower legs, and face. These tiny clusters of blood vessels sit just below the skin's surface and are caused by a number of factors, from age, to pregnancy, to surface injury.
With fiber optic technology, spider vein treatment begins by mapping the spider veins and the venous system that feeds them, along with magnification and light filters to ensure accuracy. Using either laser procedures or sclerotherapy (injecting saline into the spider vein to close it), Dr. Surya Challa and his team can safely and effectively reduce or remove your spider veins.
For legs you can't wait to show off this summer, request a consultation online or call 757.663.5461.