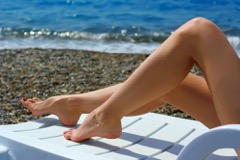 Is embarrassment from varicose or spider veins stopping you from enjoying the summer sun? At Chesapeake Vein Center and MedSpa, we believe that no one should have to avoid the beach or hide their legs due to visible veins. We offer numerous vein treatments in Chesapeake to eliminate unwanted visible veins and get you back on your feet!
Varicose veins and spider veins become visible when they expand due to building pressure within the vein. This happens due to malfunctioning valves, and can lead to discomfort as well as an undesirable appearance. Our innovative vein treatments correct these problems using multiple techniques, including sclerotherapy, radiofrequency ablation, and ambulatory phlebectomy.
Each of these treatments is a separate strategy for addressing vein issues, and each has its own distinct benefits. During your consultation, board-certified surgeon and vein specialist Dr. Surya Challa will explain each potential treatment in detail, and after an evaluation of your condition he will make a recommendation based on his expertise.
Don't shy away from the beach—own it! Call 757-663-5461 today to schedule your consultation and learn more about vein treatments in Chesapeake.