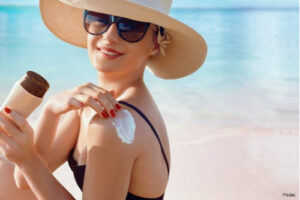 In honor of May being Skin Cancer Awareness Month, we'd like to share our expert advice on how to best protect your skin from harmful sun damage, identify warning signs of skin cancer and age gracefully with younger-looking, beautiful skin.
Practice optimal sun protection.
You guessed it. Sunscreen is one of the best ways to protect your skin from UV damage. We recommend investing in a broad-spectrum sunscreen with a minimum SPF 30 and incorporating it into your daily skin care routine. When you're outside for long periods of time, remember to reapply your SPF at least every two hours. Other ways to shield your skin from the sun include wearing long sleeves, a wide-brimmed hat and/or UV-blocking sunglasses. Try to avoid the sun when its rays are strongest (between 10 a.m. and 4 p.m.) by sticking to the shade under a tree, pavilion or umbrella. Too much continuous sun exposure over several years can damage your skin, leading to an increased chance of developing skin cancer. By practicing effective daily sun protection, you can reduce your risk and enjoy beautiful, healthy skin for years to come.
Avoid indoor/outdoor tanning.
Whether outside at the beach or indoors inside a tanning bed, tanning can have dangerous consequences. Achieving glowing skin can be gorgeous, but it depends on how you get there. Tanning to get the "perfect glow" damages your skin cells, speeds up visible signs of aging and, worst of all, can lead to skin cancer. Instead, consider using sunless tanning products to give you that bronzed look. And if you do notice you're often getting a tan while wearing sunscreen, it may be time to get out of the sun and switch to a higher SPF.
Conduct regular skin exams.
Being proactive about your sun protection is just one piece of the puzzle. You should also be vigilant about regularly checking your body for any changes or unusual spots. The earlier skin cancer is caught, the better the prognosis. So, in addition to annual skin cancer screenings with your healthcare provider, learn your ABCDEs for early skin cancer detection:
A: Asymmetry – Different shapes on each side of the mole
B: Border irregularity – Uneven or ragged edges
C: Color – Different shades of brown or black
D: Diameter – Larger than 1/4 inch
E: Evolving – Has changed over time
If you notice any of these changes or other symptoms, please contact your healthcare provider ASAP. Remember, early detection saves lives!
To learn more about protecting your skin health or finding advanced clinical skin care, give us a call at 757.663.5461 or request a consultation online today.