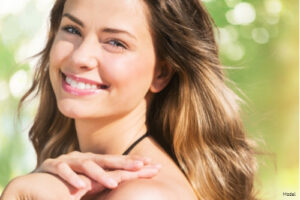 Imagine your skin feeling clean and refreshed right now, even in the dog days of summer. Though this seems like an impossible feat, it's totally within reach at Chesapeake Vein Center & MedSpa. This month, we're eager to help you hit the reset button on your complexion so you can feel renewed and radiant even through the sweltering heat of August!
Our favorite no-downtime complexion refresher: Clinical facials! Have you ever tried one? We've noticed that a lot of people shy away from facials because they think they are not results-driven, but this is far from the truth at our medspa! We proudly administer only clinical-grade facials by Environ®, a medical-grade skin care company based in science and decades of clinical research. Our facials are totally based on getting you noticeable results that last!
Here is a list of some of the most common complexion concerns you can address with a clinical facial:
Lines and wrinkles
Melasma
Sun damage
Age spots/sunspots
Acne discoloration
Redness
Textural irregularities
Dullness
Pore size
At this point, you're probably wondering how a no-downtime facial can target all these complexion concerns. We'll tell you: medical-grade formulations, that's how! As you know, our facials are formulated by Environ, a renowned medical-grade skin care company. Environ was developed decades ago by a dermatologist who was driven to help burn victims skin heal.
Environ facials are formulated with great care to be a precise pH level to ensure the skin is revitalized without being damaged.
A wonderful advantage to a low pH level is comfortable, cooling facials and peels that stimulate the skin without causing irritation and other troubling side effects.
Environ designs every skin treatment and product to deliver the highest possible yet safest concentration of ingredients so you can enjoy real results without the risk.
Environ facials are suitable for all skin types and tones!
Last, but not least: Don't forget to wear your sunscreen! Keeping your skinvestment protected is the easiest and most affordable way to maintain your radiance!
Are you ready to refresh your complexion with an Environ facial? (We sure are!) Schedule yours soon before our schedule fills up! Call 757.663.5461 or request a consultation online today.