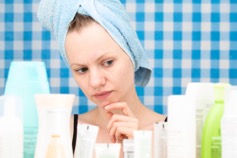 Springtime is ideal for clearing away the cobwebs, but it's also a prime time to reevaluate your skin care regimen. When was the last time you gave your complexion a serious once-over? Are your products truly working for you? Or, are you stuck in a rut, resigned to complexion imperfection? If so, it's time for a skin care overhaul!
Here are some helpful tips for updating and maximizing your skin care routine so you can enjoy the healthy-looking glow you deserve.
Just say NO to hoarding old SPF products.
We know how hard it is to throw away perfectly good sunscreen, but just like the food in your pantry, your SPF also has a limited shelf life. Each spring, when the weather starts improving and your plans bring you outdoors, investing in new sunscreen is your top priority. SPF is not glamorous, but using SPF daily will certainly make you look glamorous by preserving your appearance and preventing a laundry list of imperfections, including wrinkles, age spots, sun spots, melasma, freckles…
Invest in professional-grade products.
We've all tried countless drugstore products that promise the world. Problem is, they rarely deliver. If you're serious about improving your skin, you need medical-grade formulas packed with optimal amounts of active, proven ingredients. Based on clinical research, not hype, professional skin care lines are created to achieve optimal results. We proudly offer SkinMedica®, an award-winning skin care line sold exclusively by medical professionals. During your personal consultation, we can help you choose the ideal products to meet your unique skin care concerns and goals.
Go easy!
Your skin is your largest living organ, and just like you, it gets tired! Make sure you give your skin plenty of rest. Your skin loves sleep! In fact, your skin repairs and replenishes itself while you sleep, which is why so many skin care formulas recommend night-time applications for optimal results. You should also baby your skin by gently washing it with a mild cleanser in warm water only—never too hot or cold, which can over-dry your dermis. Over-scrubbing is also a no-no because it irritates your skin, causing broken capillaries or textural irregularities.
We achieve amazing results every day with our leading selection of skin care treatments and products. From laser skin rejuvenation to medical-grade skin care products, we have the tools to achieve younger-looking, radiant skin that lasts and lasts. We can't wait to help you attain your complexion goals! To get started, please call  757.663.5461 or request your consultation online today!