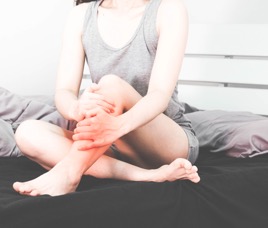 Almost everyone suffers from restless leg syndrome (RLS) from time to time, an antsy or creepy feeling, usually in your legs, that makes sitting still or sleeping almost impossible. Up to 10 percent of the population suffers from chronic RLS, a disorder of the nervous system that causes an unpleasant, nagging urge to move the legs or arms. RLS can greatly impair your quality of life if you experience it frequently enough.
A venous disease specialist, Dr. Surya Challa's first step in treating RLS is performing a thorough diagnostic evaluation, including analysis of your vein health. Dr. Challa takes into consideration your family history, health history, lifestyle, and other factors to help pinpoint possible causes and treatments.
To help you find some relief, here's a look at the major RLS culprits, along with a few surprising ones.
Medication
Blood pressure medication, called beta blockers, is a well-known trigger of RLS, but we bet you didn't know that Benadryl, an antihistamine in everyone's cupboard, can also be a cause. Sedating antihistamines block the brain's dopamine receptors, which can aggravate RLS symptoms. Other drugs to watch out for include antidepressants that increase serotonin (called selective serotonin reuptake inhibitors or SSRIs), antipsychotic meds, and anti-nausea drugs.
Exercise
We know exercise is at the top of your To-Do list, and it should stay at the top because it helps your health in almost every way, from lowering your risk of disease and boosting your quality and of life and longevity. Just avoid vigorous exercise too close to bedtime. While moderate exercise during the day has been shown to ease restlessness at night, vigorous exercise at night, especially close to bedtime, can have the opposite effect on some people.
Gene mutation
Genetics may play a major role when it comes to RLS. Thirteen newly-discovered gene variants may raise the risk for RLS, according to a study published in Lancet Neurology of 46,000 RLS sufferers involving the collaboration of scientists from the Technical University of Munich and the Helmholtz Center, Cambridge University, and the U.S. genetic-testing company 23andMe. While you're stuck with your genetic makeup, this finding may lead to promising new treatments for RLS. Stay tuned!
Stress
Last, but not least, stress can aggravate RLS! Be vigilant about prioritizing self-care and making time for preventive measures to reduce your stress levels, such as eating right, exercising, sleeping at a consistent time every night, and getting adequate rest.
To learn more about treatments for RLS, call 757.663.5461</a or or schedule a personal consultation today!