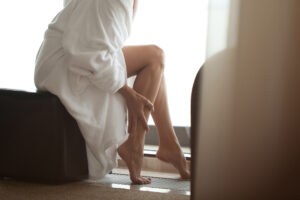 Visible veins and pain or swelling in the legs are often considered problems for older adults, but in reality many young women—even in their twenties and thirties—suffer from the effects of spider veins. Any strain on the legs from running or standing can lead to this unwanted condition. With vein treatments by renowned vein specialist Dr. Surya Challa at Chesapeake Vein Center and MedSpa, young women can be confident that there is a solution in sight to get rid of spider veins!
Dr. Challa is one of the world's foremost experts on vein conditions and treatments, offering the most advanced treatments to reduce the appearance of veins on the legs. Although spider veins can't be entirely prevented, women of all ages, including young women, can safely undergo laser treatments to eliminate spider veins without the need for invasive surgery.
Spider vein treatments at Chesapeake Vein Center and MedSpa are quick and nearly painless. Dr. Challa offers both Sclerotherapy and Laser Vein Treatments to ensure that your unwanted veins disappear for good after your visit. During Sclerotherapy treatments, a saline solution is injected directly into the troublesome vein, causing it to shrink and disappear from view while blood flow is safely re-routed to healthier veins. Laser Vein Treatments use laser energy to heat the problem area, again causing the vein to dissipate and fade away. Both of these vein treatments provide impressive results in just a matter of weeks, and require no downtime afterwards!
There is no "right" time to look into spider vein treatments. At Chesapeake Vein Center and MedSpa, women of all ages can show off smooth legs without worrying about unwanted veins.
Call 757-663-5461 to schedule your consultation for Spider Vein Treatments at Chesapeake Vein Center and MedSpa today!