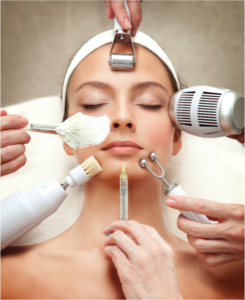 When it comes to beauty, two is often better than one. More specifically, combining two aesthetic treatments into one session not only saves you time but also offers other big benefits like enhanced results. And we're not the only ones who think so! According to a recent survey by the Academy of Facial Plastic and Reconstructive Surgeons, combination treatments are one of the biggest trends in cosmetic medicine today.
Here are a few of our favorite combination treatments at Chesapeake Vein Center and Medspa, and why you'll love them, too!
Micro-needling and Chemical Peels
Consider micro-needling the perfect primer for any skin treatment. This easy treatment gently pierces the skin with tiny needles, creating "micro" holes that are perfect for soaking up potent skin care products and stimulating new collagen production. Micro-needling before a chemical peel preps the skin for maximum absorption of the chemical peel, enhancing your results.
Photo Facials and Halo Laser Skin Resurfacing
A photo facial is a non-invasive light treatment that perfectly complements a skin resurfacing treatment like Halo™. Photo facials are highly effective at diminishing pigmentation concerns, such a freckles, age spots, and redness. Halo is a skin resurfacing treatment that both exfoliates the outermost layer of skin and stimulates new collagen growth. Combined, photo facials and Halo augment collagen production and reveal enhanced benefits to the skin, including more even tone and texture with diminished lines and wrinkles.
Photo facials are also a fabulous complement to any injectable treatment, which brings us to our next dynamic duo…
Botox® and Dermal Fillers
Like peanut butter and jelly or peas and carrots, Botox® and dermal fillers are a stellar combination. Botox works differently than dermal fillers by relaxing the muscle activity underlying wrinkles on the upper areas of the face. Dermal fillers like Juvéderm®, Voluma®, and Volbella® offer immediate plumping and smoothing benefits by restoring volume with a hyaluronic-acid based gel. Together, these injectables can rejuvenate the entire face, taking only minutes to administer.
With so many possible combinations and so little time, your best bet is a consultation to discover your ideal pairing. Call  757.663.5461 or click here to schedule your consultation today.