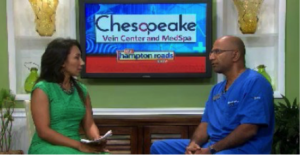 Dr. Surya Challa of Chesapeake Vein Center and MedSpa recently appeared once again on The Hampton Roads Show, this time to discuss the amazing Halo™ Fractional Laser. This revolutionary device is helping thousands of people dramatically reduce sun damage and improve the health of their skin. As an industry leader in laser treatments, Dr. Challa demonstrated the treatment and displayed the life-changing results he consistently provides to his Chesapeake area clients.
Dr. Challa explained that treatment with the Halo Fractional Laser is a safe and effective process proven to rejuvenate your skin and fight the effects of years of UV exposure. One of the most beneficial features of the laser is its Dynamic Thermal Optimization component, which allows the doctor to provide the optimal heat level to each individual patient for maximum results. The Halo laser is specially designed to keep the area around the patient free of residue from the process, making it one of the most efficient lasers on the market today.
During the show, Dr. Challa answered all questions regarding pain involved and downtime associated with treatment, both of which are minimal. Dr. Challa demonstrated once again why he is one of the most trusted doctors in the Chesapeake area!
For more information regarding Halo Fractional Laser treatment at Chesapeake Vein Center and MedSpa, call 757-389-8777 to schedule your free consultation today!