Sure, the moms in your life may always appreciate flowers or chocolates on Mother's Day, but we can help you give Mom what she REALLY wants — self-care and rejuvenation! We're talking about a gift card to Chesapeake Vein Center & MedSpa, of course. All moms deserve the very best care, and as Virginia Beach's premier destination for all things health and wellness, Mom can look forward to the highest quality experience and results.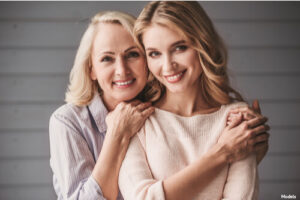 Giving Mom a gift card lets her decide for herself exactly what kind of self-care she wants most. There are so many possibilities available here in Chesapeake, that we wanted to share a few of the most popular options and how they can help Mom look and feel her very best.
Non-invasive body contouring with CoolSculpting®
Now is the perfect time for Mom to invest in slimmer contours, while we're offering two FREE CoolSculpting treatments when you purchase six this month. Many people often struggle to lose excess fat in difficult areas like a double chin, upper arm fat, stomach bulge, thigh fat or other areas. That's where CoolSculpting can help! This FDA-approved treatment freezes and disables fat cells in the targeted areas, revealing gradual, natural-looking fat reduction in the weeks and months following treatment. With only minimal downtime, CoolSculpting can easily fit into a hectic daily schedule. Most patients are even able to lay back and read or use their phone during treatment.
Anti-aging with Botox® and Juvéderm®
If Mom is bothered by lines and wrinkles on her forehead or around the eyes or mouth, or by the loss of volume in her face or lips, FDA-approved Botox or Juvéderm can help restore her years-younger look. Our expert injectors are trained to provide personally tailored, top-quality results according to every client's individual aesthetic goals.
● Botox reduces muscle activity underlying the forehead, between the brows and around the eyes, allowing the skin to naturally smooth out in the days following treatment.
● Juvéderm is made of hyaluronic acid, a substance that exists naturally in the body and gives skin its youthful volume and elasticity. It's ideal for treating the lines around the nose and mouth (nasolabial folds), smile lines and lip plumping.
Laser skin rejuvenation
One of our favorite ways to help anyone look and feel deeply revitalized is with laser skin rejuvenation treatments. It's why we offer three different kinds: Halo™, BBL™ photofacials and MicroLaserPeel®. Each treatment offers unique benefits and our staff are ready to work one-on-one with Mom to determine the ideal treatment type and regimen for her needs and goals. Laser skin rejuvenation offers so many significant, lasting benefits that it's hard to narrow it down, but here are some of the improvements Mom can experience:
● Diminished lines and wrinkles
● Reduced age spots, sunspots, melasma and other hyperpigmentation
● Brighter skin
● More even skin tone
● Diminished scars and acne scars
Varicose and spider vein treatments
Spider veins can be frustrating to cover up and can make us feel older than our years, while varicose veins can have that effect but also cause discomfort or pain. Thankfully, our very own Dr. Surya Challa is a board-certified vein specialist and surgeon. He is also a renowned and widely respected Intersocietal Accreditation Commission (IAC)-accredited physician for the treatment of varicose veins and spider veins. We proudly offer several different vein treatments depending on the type and severity of spider or varicose veins being treated. Our non-surgical options include sclerotherapy and BBL, for well-tolerated options with little to no downtime!
With all of these possibilities and so many more, you can give Mom the gift of self-care, comfort and confidence — what could be better? All it takes is a gift card, so reach out to us today at (757) 819-7633 to purchase or schedule a consultation online to learn more.