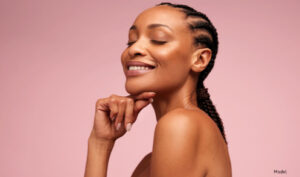 Your holiday decor doesn't have to be the only thing luminous about this time of year — your skin can be luminous, too! You deserve the gift of radiant, healthy skin now and all year round, which is why we can't wait to share with you our powerful treatment combination: microneedling and Environ® clinical facials!
What makes this combination so uniquely effective is the way your skin's natural healing and the proven ingredients of Environ facials work together to rejuvenate and refresh your complexion for a wide range of improvements, including smoother, clearer, younger looking skin.
Benefits you can expect from microneedling
Microneedling uses tiny needles to create "micro-injuries" in your skin, prompting your skin's natural healing response and the production of healthy, new collagen for overall smoother, firmer skin with only minimal downtime.
Specific improvements can include:
Diminished fine lines and wrinkles
Reduced surgical or acne scars
Reduced stretch marks
Benefits you can expect from Environ clinical facials
Environ's fully customizable clinical facials are formulated with peak levels of results-driven ingredients to deliver glowing benefits with little to no downtime. Depending on the kind of facial you choose, you can look forward to improved:
Lines and wrinkles
Melasma
Sun damage
Age spots
Acne discoloration
Redness
Pore size, and more
Our highly skilled aestheticians will work closely with you during your personal consultation to help determine the best type of facial for your unique needs and aesthetic goals.
How these two treatments work together
When you combine the intense healing and rejuvenation of microneedling with the proven ingredients and customizability of Environ facials, what you'll see is an impressive combination of benefits that work synergistically to provide you with clearer, healthier, more youthful looking skin that you'll love!
We are passionate about helping people feel confident and happy with their look, so we can't wait to see you for your own customized microneedling & facial combination treatment! Learn more about these and our other treatment options today by reaching out to us at 757.819.7633 or requesting a consultation online.