It's Valentine's Day in a few weeks! Do you know what that means? It's a popular time to plump your pucker with dermal fillers!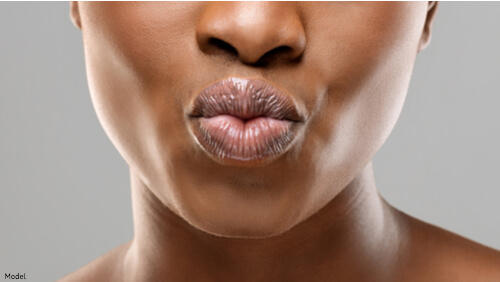 To help you achieve your best results, here are the answers to some of your most frequently asked questions about lip augmentation:
Is there anything I can do before or after my treatment to help speed healing and reduce side effects?
Yes! Applying a cold compress to your lips both before and after your treatment helps to reduce swelling and bruising by decreasing the size of your blood vessels. You can also help speed healing by applying SkinMedica® Post Procedure Repair Complex to your skin. Medical-grade SkinMedica products are clinically-formulated to help soothe and repair skin. To help you achieve your best results, SkinMedica's post-treatment line also includes Restorative Ointment, TNS Ceramide Treatment Cream™ and Essential Defense Mineral Shield™ Broad Spectrum 35 Sunscreen.
How much downtime can I expect?
Technically, dermal fillers are a little-to-no downtime treatment. However, you may incur some social downtime, depending on your unique response to your dermal filler session. With every injection, there is always a risk of swelling, pinpoint bleeding and/or bruising. Usually, these side effects resolve on their own within the hour following your treatment. However, you may experience significant swelling up to a day following your treatment. For this reason, we recommend that you schedule your injectables treatments when you have at least a week to lay low and wait for any swelling or bruising to fully subside. Patience is key with dermal fillers!
What can I do to ensure my results look natural?
Our job is to help you achieve the precise look you like, which means we will work closely with you during your consultation and treatment. There are many ways to enhance the lips. Some patients desire a slight enhancement of their cupid's bow and lower lip while others may desire more dramatic volume to the entire mouth. Dr. Challa will take your unique facial proportions into careful consideration when administering your treatment to achieve the most balanced and flattering results.
How can I get started with lip enhancement in Hampton Roads?
We can't wait to help you perfect your pucker! Call (757) 819-7633 or schedule a consultation online today!