Things are heating up in Hampton Roads, which means it's time to turn our attention to the sun and protecting our skin from it! To put things in perspective, when it comes to the appearance and health of your skin, your #1 job this summer is wearing sunscreen. If you can only do one thing for your skin, let it be UV protection!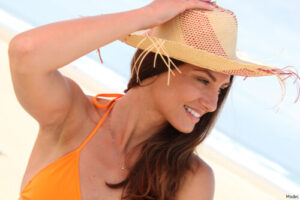 We know this sounds way too simple, but here's why sun protection is your most important beauty weapon. Ever.
We can all remember the agony of a sunburn when we forgot to apply sunblock. Red, inflamed skin that is literally hot to the touch. Oh, and the pain! We all have suffered through burns, but do you ever think about how your skin cells suffered? Left exposed to the elements, the top layers of your skin cells are literally burned and destroyed when you have a sunburn. When this damage happens, your skin cells are put under enormous stress and forced into repair mode. So, for as long as your sunburn is healing, your skin cells are furiously working behind the scenes to repair and heal all the damage that was done. This means your skin cells are working overtime and utterly exhausted.
Sunscreen helps your skin cells stay happy.
Conversely, when you apply sunscreen to your skin and other protective measures like hats, shade and clothing, your skin cells are made in the shade, so to speak, happy and free to do what skin cells do best: turning over and cleaning house, clearing out old skin cells and making room for healthy, vibrant new skin! One compelling study on sunscreen analyzed the skin of daily sunscreen users for a year. The study found what we all would expect: that daily sunscreen use prevents sun damage. However, what came as a surprise to the researchers was that the sunscreen users' skin was objectively judged to look better than the year before. This finding suggests that daily sunscreen use can actually improve the look of your skin!
When you want results NOW.
Sometimes, the signs of sun damage can't wait. For example, pigmentation irregularities like sunspots, age spots, liver spots, brown spots and freckles are all common signs of sun damage that can be troubling for many of us. Sunscreen can help your dark spots from getting worse or prevent you from developing new spots, but it won't be able to fade them (unless your sunscreen has a brightening agent). When you need complexion improvements and you don't want to wait, we recommend BBL™ photofacials. BBL photofacials are the gold standard for improving pigmentation issues, and can even help to diminish small veins, broken capillaries, redness and rosacea. There are so many amazing things about BBL photofacials:
● There's no downtime because this treatment doesn't break the skin
● You are reversing sun damage and correcting signs of sun damage all at once!
● You are simulating new collagen and elastin growth
● Over time, your skin will look smoother, more elastic and more supple, not to mention more evenly toned.
Are you ready to protect your skin this summer and improve the look of your skin while doing it? To learn more about skin care protection and revitalization, call us at (757) 819-7633 or request a consultation online today.