We bet you've been busy scouring the internet to find the perfect holiday gifts for everyone on your list, but we're eager to remind you of the one person who may not have made your list this year: YOU! In case you missed the 2020 memo: THIS IS THE YEAR FOR SELF-CARE! After everything you've been through, you deserve a break. So, in honor of 2020, we are offering a self-care special we think you'll like: with any CoolSculpting® purchase, you'll receive a FREE SkinMedica® peel.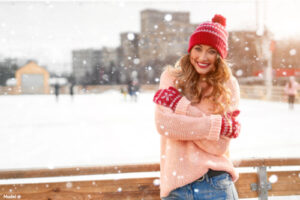 Here's why we love this special, which combines skin and body care, and we think you'll love it too!
It's the extra help you deserve to look and feel your best.
CoolSculpting helps reduce specific areas of fat on your body like a muffin top or double chin. Almost everyone has a "problem spot" they'd love to banish, and CoolSculpting is the extra help you've always dreamed of having to finally tackle that unwanted flab. Best of all, there's little to no downtime so you can go about your business after your treatments, no worse for the wear.
A SkinMedica peel offers extra help by speeding your skin's exfoliation process, removing the outermost layer of skin cells and making way for vibrant, intensely refreshed new skin. A chemical peel will leave your skin looking immediately brighter, smoother and tighter. That's because a chemical peel removes all those dull and dead skin cells and sun damage while triggering your skin's natural healing process, spurring the growth of new collagen and elastin.
The benefits can be remarkable and long-lasting.
Every person responds differently to CoolSculpting treatments, so we can't promise certain results. However, we do know from our experience in administering treatments that CoolSculpting technology is capable of revealing life-changing improvements for many people. Keep in mind that CoolSculpting isn't a replacement for a healthy lifestyle. This means you'll still need to eat right and stay active to maintain your slimmer contours. This is because CoolSculpting reduces fat cells in a target area but it doesn't remove ALL your fat cells. Those remaining cells can enlarge with any weight gain and alter or diminish your results.
With chemical peels, you'll notice immediate benefits, including brighter, smoother skin. These benefits can last months, providing you protect your skin from the sun with SPF and continue applying results-driven skin care products. However, for optimal results, we recommend a series of chemical peels, spaced about a month apart. Many of our patients undergo seasonal chemical peels to maintain their benefits for the long term.
Here at Chesapeake Vein Center and MedSpa, we strive to help you look and feel your best at every stage of life! To learn more about CoolSculpting, chemical peels or our special, please call 757-819-7633 or request a consultation online today!