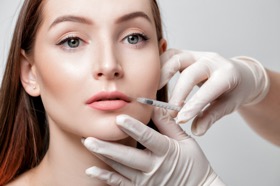 At Chesapeake Vein Center and MedSpa, we specialize in helping you achieve the most flattering and natural-looking benefits from your dermal filler session. Your results should fit seamlessly with your natural contours, erasing signs of aging and enhancing volume while preserving your natural look.
We use FDA-approved Juvéderm®, one of the world's most popular dermal fillers to achieve long-lasting rejuvenation (up to a year for many). Tried and true, Juvéderm is a smooth gel packed with hyaluronic acid (HA), a naturally-occurring sugar in the body that attracts moisture and poses little to no risk of an allergic reaction.
If you're receiving injectables for the first time, chances are you're a bit nervous about the side effects or downtime. To help you experience the best possible injectables session with optimal results, here's a look at three of the most common side effects of dermal fillers, along with some important DO's and DON'Ts.
SWELLING
Some swelling is normal. Any injection causes temporary trauma to your skin and can result in swelling, bruising, or pinpoint bleeding. Swelling will be most pronounced the night of your treatment, and will start to reduce in the days following. It's not unusual to see swelling ebb and flow up to a week following your treatment, so relax! You will soon return to normal.
Before and after your session, gently apply a cold compress (wrapped in a towel) over your treatment areas. Cool pressure helps to constrict your blood vessels, curbing swelling and bruising. Avoid applying ice directly to your skin without wrapping it in a towel first. Extreme temperatures can upset fragile injection sites that are recovering. Also, avoid the temptation to massage your swollen areas, which can actually make swelling worse. Massaging may also inadvertently move the filler to undesirable locations in your face.
BRUISING
Some patients are more prone to bruising than others, but there are steps you can take to reduce your risk, and to diminish bruising if it does occur.
Avoid blood thinning substances at least a full week before your treatment. Common blood thinners include alcohol, aspirin and other non-steroidal anti-inflammatories (NSAIDS), garlic, and ginger. We also recommend taking oral and topical arnica montana, a supplement that helps to reduce bruising and inflammation.
Up to a week following your treatment, avoid strenuous exercise and heavy lifting, which can alter your results and slow healing. Also, in the days following your session, avoid putting pressure on your face by sleeping face down or on the side, which can move your dermal filler before it has time to fully settle.
Our expert injector, board-certified vein surgeon Dr. Surya Challa, offers years of experience and understands the intricacies of facial anatomy to help you obtain optimal, natural-looking results. To learn more about dermal fillers and obtaining your best results, please call  757.663.5461 or schedule a personal consultation today!