Springtime is here, and rather than focusing solely on the struggles we're all experiencing right now, we'd like to take a moment to explore how we can help you feel comfortable and confident in your body this summer. Here are a few of our favorite ways to help you get your body ready for summertime adventures.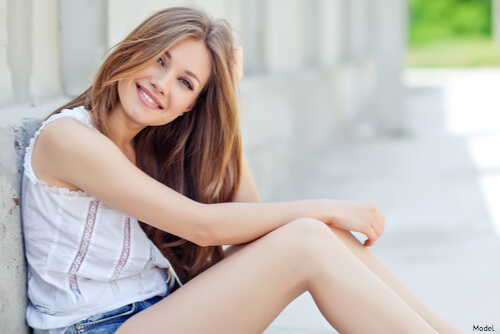 Laser Hair Removal
No more shaving, plucking or waxing. And no more razor burn or ingrown hairs! Just hair-free, carefree confidence in your bathing suit, shorts, dresses, tank tops and more. Is there anything that sounds more blissful? We're not sure there is! Laser hair removal is a long-lasting treatment that can give you years of freedom. This treatment uses light energy to disable active hair follicles in your target areas. People typically need multiple treatments to see complete results, since not all of your hair follicles are active at the same time.
Laser vein treatment and sclerotherapy
If you're not looking forward to the warm weather because your legs or any other area has blotchy patches of noticeable spider veins, you're certainly not alone. This common problem, thankfully, is completely treatable! Sclerotherapy simply involves injecting your spider veins with a special solution, causing them to collapse and gradually fade away in the weeks after your treatment with little to no downtime. Laser photofacials are another option. This non-invasive treatment uses intense pulses of light to target and disable your spider veins, causing them to collapse and gradually fade from view. We typically recommend photofacials for correcting smaller veins and broken capillaries on the face.
Body contouring
There is honestly no shame in admitting that with diet and exercise, you still can't lessen or get rid of stubborn areas of fat that may be bothering you, like a double chin, stomach pooch or arm fat. This is completely normal, and it's also something that we can help you significantly improve without surgery. We provide CoolSculpting®, a non-invasive fat reduction treatment that freezes and disables your targeted fat cells, causing them to be flushed from your system in the weeks and months following your treatments. And with little to no downtime, treatments are easy to fit into your schedule.
While our office is currently closed, we are taking phone calls from our answering service and will get back to you as soon as possible! Please call (757) 819-7633 with any questions you may have or request an online consultation.