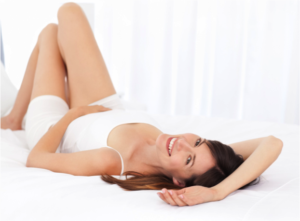 When it's time to treat yourself, CoolSculpting® may not be the first activity that comes to mind. Ice cream or massages are the usual go-to indulgences, but we'd like to turn self-care on its head and declare CoolSculpting the perfect self-pampering gift!
Here are three reasons why CoolSculpting makes a terrific treat for you or a loved one:
It's a gift that keeps on giving.
Unlike an ice cream cone or massage where the pleasure has a distinct end, CoolSculpting offers benefits that are gradually revealed over time. Once CoolSculpting freezes your fat cells, your body kicks in and begins a steady purging of disabled fat cells in the weeks and months following your treatment. This means you'll experience months of enjoyment watching your results gradually emerge over time. Best of all, you can enjoy your new contours indefinitely with a healthy lifestyle!
You deserve the extra help!
CoolSculpting offers help for those who help themselves. We bet you're not sitting around eating bonbons all day. Despite your healthy, active lifestyle, you remain haunted by persistent "problem" spots. This is where CoolSculpting comes in to work its magic. Just think how amazing it will feel to watch your trouble zones finally improve!
It's good for you!
Taking pro-active steps to improve yourself is always a healthy choice, both mentally and physically. Lowering the amount of fat in your body is an obvious plus, but so is the spike in your self-esteem and confidence when you like what you see in the mirror!
Give yourself the gift that keeps on giving! For your CoolSculpting consultation, call us at  757.663.5461 or click here.