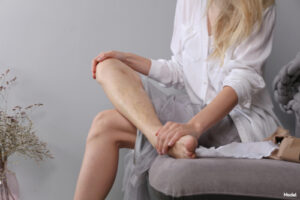 Veins are one of those things in life that you don't think about all that much, so it's upsetting when they scream for attention in the form of varicose veins. If you are one of the millions of people who suffer from varicose veins day in and day out, you know the symptoms all too well: bulging, twisted, enlarged veins near the surface of the skin that ache, itch and swell. If you're one of the lucky ones without any symptoms or discomfort, you may still suffer from distress over their unsightly appearance. Let's face it, varicose veins are anything but pretty!
Fortunately, varicose veins are highly treatable, and you are in the right place! Chesapeake Vein Center & MedSpa is one of the premiere vein treatment centers in Virginia. Our board-certified vein surgeon, Dr. Surya Challa, is board-certified in general surgery, a Diplomate of the American Board of Venous and Lymphatic Medicine (ABVLM), a Diplomate in Clinical Informatics (ABPM) and a Registered Phlebology Sonographer (RPhS). Dr. Challa has been performing varicose vein procedures since 2008 and has performed over 2,000 successful procedures. In addition, Dr. Challa has been listed in the "Guide to America's Top Surgeons" 2004-2005 edition and Strathmore's "Who's Who Worldwide Honors 2008." He is a fellow of the American College of Surgeons and member of the American College of Phlebology, American Society for Breast Surgeons, Medical Society of Virginia and the JIPMER Alumni Association of North America.
If your varicose veins are bothering you, your first step is to visit Chesapeake Vein Center & MedSpa for a personal consultation. Dr. Challa will carefully review your symptoms and help guide you toward the best vein treatment for your unique needs. In the meantime, here are some tips for easing your varicose vein discomfort.
Things YOU can do to help your varicose veins now:
When resting at home, prop up your affected leg or legs with a pillow to help ease pressure on your veins and encourage healthy blood flow. Just think about how your legs feel after you have been on your feet for a long period and your varicose veins start throbbing and aching. This is due to blood pooling in your varicose veins which are not functioning optimally and are incapable of healthy blood flow. Elevating your legs helps blood move toward your heart and away from the affected veins, easing discomfort.
Wear compression stockings.
Compression stockings put firm, consistent pressure on your concerned veins, helping to encourage healthy blood flow and reduce swelling and discomfort.
Unfortunately, our weight can affect our vein health. Being overweight puts pressure on veins and can exacerbate varicose vein symptoms. Losing weight can help both your vein health and your overall health!
Signs you may need professional vein treatment:
Nothing you are doing is working.
You've lost weight, you wear compression stockings and you elevate your legs whenever possible, but you are still battling daily with throbbing and achy varicose veins. It could be time for you to visit Chesapeake Vein Center & MedSpa. Dr. Challa has performed thousands of vein treatments and can help restore your legs optimal health and comfort.
Your quality of life is suffering.
If you are missing work due to leg pain, suffering from chronic leg pain or simply miserable from the appearance of your legs, you deserve medical intervention. There is no need to suffer from varicose veins, thanks to advanced varicose treatments including radiofrequency ablation and ambulatory phlebotomy.
To discover which varicose vein treatment is right for you, please call 757.819.7633 or request a consultation online today.