Varicose veins are certainly a pesky cosmetic concern. After all, no one is happy to have swollen, gnarled, purple or blue veins bulging out of their calves! But sometimes, varicose veins are more than just a nuisance. It may be time to see a doctor if you start experiencing any of the following symptoms: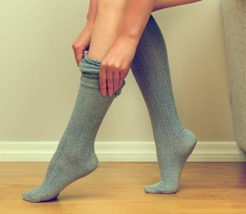 Bleeding
Varicose veins are a sign that pressure inside your veins is higher than normal. If a varicose vein starts bleeding, you'll need to elevate your leg immediately and apply firm pressure to stop the bleeding. "Once your bleeding is under control, you should see your doctor right away," says double board-certified vein specialist and surgeon, Dr. Surya Challa, a renowned Intersocietal Accreditation Commission (IAC) accredited physician for the treatment of varicose veins and spider veins.
The skin over the vein gets red, and the vein is painful.
This could be a sign of thrombophlebitis, when the wall of your varicose vein becomes inflamed and forms a blood clot. This condition can affect a surface vein or a deeper vein, which is more serious. Get yourself to a doctor, who can rule out or treat deep vein thrombosis (DVT), a blood clot that forms deep within a muscle. DVT is dangerous because it can lead to a pulmonary embolism, when a blood clot dislodges and travels to the lungs.
Small injuries like cuts or dings on your leg are taking forever to heal.
Varicose veins, among other conditions, are a possible cause of slow healing. Unfortunately, slowly healing injuries on your legs are also a warning sign that you are likely to develop ulcers, or open sores, which are extremely difficult to heal. Your best bet is prevention by seeing a doctor who can recommend lifestyle changes, such as compression stockings, surgery, or other measures, depending on your condition. Other skin concerns to watch out for are rashes, itchiness, or a change in skin color. High pressure in your veins can adversely affect the skin of your lower legs, leading to poor healing, varicose eczema, and color changes such as brown spots. All these symptoms are signs that your varicose veins are worsening, and they could lead to complications like ulcers or deep vein thrombosis, if left untreated.
You are stuck at home.
Do your legs often feel achy and heavy, and do you find relief from elevating them? If physical discomfort is causing you to avoid going outside or to work because you need to keep your legs elevated, it's time to seek help. You can get your life back, often with minimal downtime, with the help of a vein expert and surgeon. Dr. Challa of Chesapeake Vein Center & MedSpa has performed varicose vein procedures since 2008 and has successfully administered thousands of vein treatments with exemplary results.
Dr. Challa and his team can't wait to help you achieve long-lasting comfort and relief from your vein concerns with the highest level of treatments and technology. To learn more about treating your vein concerns, call 757.819.7633 or request a personal consultation today.