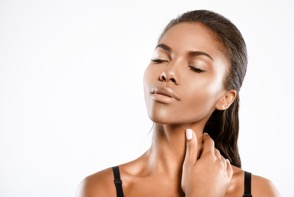 It's a fabulous time to age. Aging gracefully and gorgeously is easier than ever thanks to an abundance of state-of-the-art skin treatments, from lasers to micro-needles, which reveal radiant, younger-looking skin at every age. These treatments harness the body's natural healing abilities to spur a bevy of beauty benefits without surgery or extensive downtime.
Ready to take advantage of your healing power? Here's a look at our leading selection of treatments to bring out your best skin:
Micro-needling
This rejuvenating treatment essentially tricks your skin into thinking it's injured by creating tiny wounds with micro-needles. As your skin heals, new collagen and elastin are generated, resulting in smoother, firmer, tighter skin with smaller pore size, reduced acne scars, diminished lines and wrinkles, improved acne, and much more.
Chemical Peels
A mix of fruit acids is tailored to your specific needs to exfoliate the outermost layer of your skin. As your skin renews itself, you'll enjoy a smoother, brighter, and more evenly-toned complexion. Depending on the intensity of your peel, you may also experience smoother lines and wrinkles and improvement with other texture irregularities.
Halo™ Laser Skin Renewal
This popular laser treatment targets both the surface of the skin and deep below with laser energy, triggering the skin's natural healing response at multiple levels. Similar to micro-needling, Halo "injures" the skin to spur new collagen and elastin production, but at a more intense level, incurring about a week of social downtime. The benefits are well worth it, as Halo offers smoother, more evenly-toned skin, softened lines and wrinkles, diminished age spots and sun spots, and a luminous, younger-looking glow.
Photofacial
If you're interested in a no-downtime treatment, the BBL™ photofacial is a terrific option. This tried-and-true light treatment has been clinically proven to make your skin look younger with repeated treatments over the long term. BBL photofacials target the skin with non-invasive light to reduce pigmentation irregularities, such as freckles, sunspots, and redness. Since a photofacial is non-invasive, it triggers new collagen and elastin growth without breaking the skin for benefits without any pesky side side effects or downtime.
MicroLaserPeel®
Tailored to your skin's unique needs, this laser treatment exfoliates the outermost layer of your skin to reveal a wide range of improvements, including reduced freckles, lines and wrinkles, more even skin tone, tighter pores, and more.
To learn more about achieving your best skin and discovering which treatment is right for you, call 757.663.5461 or request a consultation today.