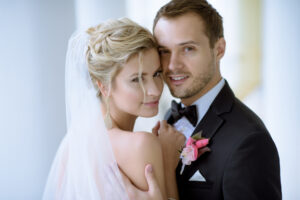 Attention all brides and grooms! (Yes, grooms—you, too!) Your big day is approaching, and if you haven't already started, now is the time to indulge in treatments for bringing out your very best on your special day. One of the treatments taking pre-nuptial parties by storm are injectables.
To rejuvenate the face, we offer expert injections with Botox® and Juvéderm®, two of the most popular and trusted injectables on the market. Botox is brilliant at squelching pesky forehead lines and crow's feet. Juvéderm is fabulous for adding volume and diminishing lines everywhere else, from the lips to the wrinkles around the nose and mouth (nasolabial folds).
The key to success with injectables is strategic planning. Since injectables are long-lasting, there's no need to wait until the week of your event to partake. We recommend scheduling your treatment at least a month before your wedding to give your skin time to bounce back from any side effects, such as slight bruising or swelling. Advance treatment also allows valuable time for the rejuvenating effects to fully develop, revealing revitalized, smoother skin.
Don't forget that we offer numerous other rejuvenating treatments for your special day, including CoolSculpting® fat-reduction, photo facials, micro-needling, chemical peels, and Halo™ fractional laser skin resurfacing. With so many options, your biggest challenge is picking just one!
Congratulations on your upcoming vows! We vow to help make your special day a big success! For more information, call us at  757.663.5461
or request a free consultation by filling out our online form.