If you're feeling like us, you could probably use a break right now. Everyone could! In the past several months, the pandemic has certainly spurred a lot of new changes and challenges in our everyday lives, including making routine activities like going to the gym more difficult or even impossible. We completely understand if you've been struggling to maintain a healthy weight, for instance, or feeling discouraged by how little you've worked out this season. Both of those situations might as well be "normal" in this new normal we're living in. Here in Chesapeake, we believe it's time for you to take a well-deserved break from your worries or negative feelings. You've been through a lot this year (and it's only August)! It's time for you to feel content about yourself in every way possible, especially when it comes to your appearance.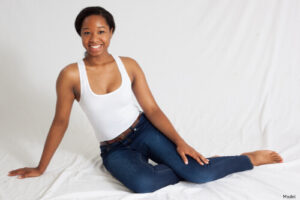 CoolSculpting® non-invasive fat reduction is here to help you get a break!
Here at Chesapeake Vein Center & MedSpa, we are dedicated to helping you look and feel like your best self, and that means helping you reach your aesthetic goals. We want to make it easier for you to achieve your body contouring goals, which is why we're proud to offer CoolSculpting!
If you've been bothered by a stubborn muffin top, double chin, arm fat or other area — whether just recently or for many years — CoolSculpting is a proven solution. CoolSculpting uses a process called cryolipolysis, via cooling applicators, to freeze and disable your targeted fat cells. Those disabled fat cells are then gradually flushed out of your body through your urine. Once gone, they cannot come back!
You can typically achieve your best results with a series of CoolSculpting treatments spaced a few months apart. During your personal consultation, we will carefully consider your needs and help you determine the most effective and affordable CoolSculpting package for you. The cost of your treatment regimen depends on several factors, including how much fat you'd like to lose, as well as the location and number of areas you would like to treat.
Regardless of your unique fat reduction goals, we want to make sure you know that our team will be with you every step of the way to ensure you have a positive experience and reach your wellness goals! Your CoolSculpting results can be best maintained by keeping up a healthy diet and active lifestyle that works for you.
Now is the best time to get started on your aesthetic and wellness journey because this this month you can buy three cycles of CoolSculpting and get one free, plus enjoy the Brilliant Distinctions® instant rebate of $500 off six or more cycles!
To learn more about CoolSculpting or ask us any questions, please give us a call at (757) 819-7633 or request a consultation online today. We look forward to hearing from you!