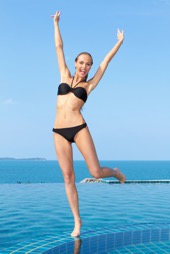 Imagine walking along the beach in your swimsuit without a cover up—and not a care in the world. You're not tugging your swimsuit down to cover bikini line razor burn, or worried if your muffin top looks obvious. You're just walking tall, confident and at peace.
If this scenario seems like an impossible fantasy to you, it's time to rethink your concept of self-care this summer and get yourself to our medical spa asap! We are experts in aesthetic treatments and want you to know that there are solutions to your concerns. We are eager to help you achieve your goals so you can look and feel your vibrant best. You deserve it!
Here's a look at 3 top confidence boosters:
Vein Treatments
So many of us keep putting off getting our veins looked at because veins seem like such a minor nuisance. But we're also the same people who refuse to wear shorts all summer long because we're embarrassed by unsightly or uncomfortable leg veins. It's time to take charge of your vein health and free yourself from your vein concerns. Dr. Surya Challa, our medical director and board certified general surgeon, is a renowned vein specialist who can help you achieve the clear-skinned, comfortable legs you were meant to have. With the most advanced technology and a variety of techniques at his disposal, Dr. Challa can address a number of vein concerns. Don't put off calling us for a consultation!
Laser Hair Removal
We can't emphasize enough how freeing laser hair removal is! A series of treatments is all it takes to live without ingrown hairs and razor burn on your bikini line or armpits. Need we say more?
CoolSculpting Non-Invasive Fat Reduction
It's the world's most popular fat reduction treatment for good reason—CoolSculpting works! Come see what all the fuss is about—unless you've grown attached to your muffin top and you'd like it to stick around for a good while longer.
Dare to embrace your best this summer! We've got the tools, and we honestly can't wait to help you achieve your goals. To learn more, please call  757.663.5461 or request a consultation online today!